An LTC, Linear Timecode, is required if you want to quickly and accurately sync your sport data with video. There are two options to generate the LTC Timecode: Protern Clock and Dish. Here we go into the pros and cons for each.
If your camera has a microphone port, then you can include an LTC timecode. There are two options available to generate extremely accurate LTC timecodes that can be synced with GPS timecoded data: Protern Clock iOS app and Dish.
What is LTC?
LTC, or Linear Timecode, is an audio timecode that certain software can decode to understand exactly when each frame of the video was recorded. It was developed over 40 years ago for the Film and Television industry. In order to link video with GPS timecoded data (i.e. Protern data), the LTC needs to record Universal Coordinated Time and date (UTC).
We have outlined the differences between the options, and go into more detail further down this article.
GoPro, DJI and Insta360 users: If your action camera has a GPS built in, you won't need a microphone port or LTC Generator. Telemetry Overlay can automatically read the GPS timecode from many action cameras.
Comparing Protern Clock iOS App and Dish
Protern Clock iOS app

Dish

Price:
App Store, $9.99
Protern Store, $429.99
Description:
iPhone or iPad App
Dedicated hardware attached to the video camera
Availability:
Immediate download
Shipping, 1-2 weeks
Best For:
Small teams; occasional video
Large teams; heavy video use
Additional Requirements:

3.5 mm audio cable; Lightning or USB-C adapter depending on iPhone or iPad model

2 AA batteries; Shoe attachment and 3.5mm audio cable are included
Use with existing camera:
✅
✅
Internet Connection Not Required:

❎

(Uses the Internet to acquire time)

✅

(Uses GPS to acquire time)

Record run commentary:
❎
✅
Instructions:
How to use Protern Clock
How to use Dish
Pros and Cons for Protern Clock
Pros and Cons for Dish
Protern Clock iOS App - Pros and Cons
Where to buy: App Store, $9.99
Protern Clock: LTC Generator iOS app
inserts an LTC timecode via the microphone input on your camera. You will need a 3.5mm audio cable, and possibly an adapter for your iPhone or iPad, to connect to your camera's microphone input. The app gets its time from highly accurate Internet connected time servers located around the world.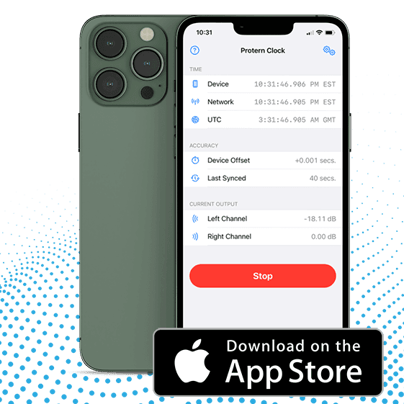 Pros
Cons

Use your existing high-zoom camera

Cost-effective audio time code option

Easy to use with existing equipment

Raw video will include a loud fax machine type noise on the left audio channel
Requires an Internet connection to establish an accurate time
Does not record commentary such as "Alice, Run 3"
Requires additional purchase of a 3.5 mm audio cable and adapter for Lightning or USB-C
Dish is a device that inserts the LTC timecode via the microphone input of your camera. The timecode comes from a GPS sensor built into the device. The Dish can be mounted on the hot shoe attachment of your camera. Having a dedicated piece of hardware to generate the LTC timecode is helpful for large teams, or those who are regularly doing enhanced video analysis.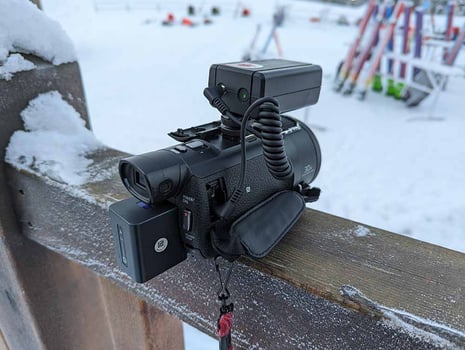 Pros
Cons

Use your existing high-zoom camera

Easy to use - just turn on the Dish and forget about it

Dish comes with the audio cable and shoe mount

Dish includes a microphone to record commentary such as "Alice, Run 3"

Does not require a mobile internet connection

Cost
Raw video will include a loud fax machine type noise on the left audio channel