Update the firmware on your Protern.io Sensor to get the latest functionality and improved accuracy.
Note: The Sensor Updater for Mac works on MacOS 11 and higher.
Safari Users: The Sensor Firmware must remain zipped. By default Safari will automatically unzip the file when downloaded. We suggest using either Chrome to download the zip file, or turn off "Open safe files after downloading" in the Safari Preferences menu.
Requirements
Before you get started, here are some things you will need to upgrade your Protern.io Sensor using your Mac:
USB-C cable (the charging cable that came with the sensor will work)
Charged Protern.io Sensor
macOs 11 (Big Sur) or newer
Step 1: Install and run the Protern Sensor Updater
To get the firmware onto the sensor you must use our Protern Sensor Updater app.
Start by downloading the Protern Sensor Updater onto your Mac
In the finder, navigate to the downloads folder and double click on the zip file titled Protern Sensor Updater.zip
Open the extracted folder and then double click on the Protern Sensor Updater to install the application
Allow permission for your computer to open the file when prompted
When the program is running you will see this screen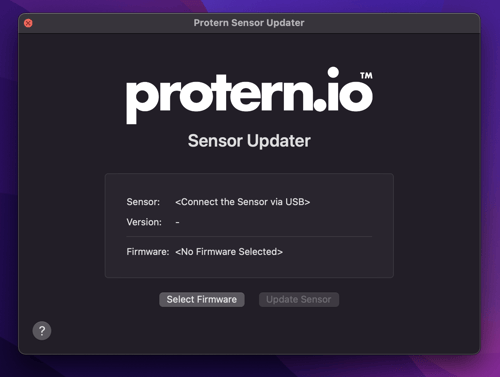 Step 2: Upgrade your Protern.io Sensor
Note: Download the latest Protern.io Sensor firmware on our Downloads page. Do not uncompress the zip file.
Plug in sensor to your computer via USB (only one sensor can be plugged in at a time)
Click Select Firmware then select the zipped folder of the version of the firmware you downloaded

Click Update Sensor to start the update, do not unplug sensor until the update is complete
When you get the success message you can safely unplug the sensor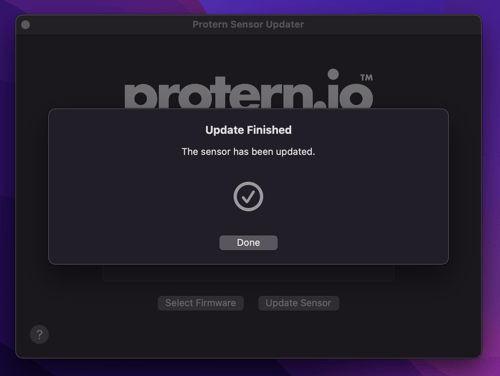 Note: If the sensor update failed, the sensor light will turn red. To try again, unplug the sensor and wait around 1-2 min until the light is no longer red and starts flashing. If you continue to have difficulties please contact support@protern.io.
Troubleshooting sensor updates
If you are having trouble updating your Protern.io Sensor, we have compiled a list of common issues in our troubleshooting Protern.io Sensor updating guide.